Reduce your AWS costs by up to 50% on auto-pilot
Want to check how Auto-pilot works before connecting?
Trusted by innovative brands, from startups to enterprise.
Engineers are good at building, but not good at understanding AWS pricing plans, which can lead to expensive and wasteful cloud usage.
Cloud has become a burden for companies.
Cloud management has become a
challenge
for companies
This has created a situation where all of the existing cloud management solutions are like cloud tax, being expensive and inefficient.

To address this problem, companies need to empower engineers to take action by providing better visibility into the AWS pricing plans and automated tools to help them navigate the complexity of the cloud.
That's where
nOps comes in
Your team focuses on innovation, while nOps runs optimization on auto-pilot to help you track, analyze and optimize accordingly! Our customers can benefit in two key ways:
Let us help you save tonnes!
Maximize Your Amazon EC2/RDS
Reserved Instances
saving without the financial risk
Automatically purchases and sells RIs depending on your infrastructure's capacity changes.
Pay for what you use, not what you provision
Pay for what you use, not what
you provision
Our AI is constantly learning your usage pattern. We find idle resources and turn them off automatically to save you money on your AWS bill.
Inspired by the Award-Winning, World-Class Team at nOps
What our clients expressing
AWS Cloud Management Platform
Revolutionize Your Reserved Instances
The 5 Steps you can't afford to miss in just 5 minutes. Read 5 Essential Steps to Reserved Instance Cost Optimization and get industry best practices and tips on how to:
Team nOps is now SOC2 Type 2 Certified!
Here is some exciting news!! Team nOps is happy to add one more achievement to its cap, i.e., being certified as SOC2 Type 2 Certificate. The SOC2 Type 2 certification, issued by the
Automate Reserved instances
Automate AWS Reserved Instances to Save up to 30% over On-Demand Cost
You're a DevOps engineer and your boss comes to you and says
A
Recognized Leader
in Cloud Management
Advanced technology partner AWS, G2 4.8 rating, FinOps Foundation member and many more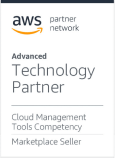 Discover how much you could save by connecting your infrastructure with nOps for free.