You're paying more for less cloud
Users who switch from CloudCheckr to nOps save 40% on average
Improved cloud insights and real-time visibility
True Single Pane of Glass multi-cloud reporting
Better alignment to Well-Architected principles
Cheaper pricing with more cost savings
Sync workloads across teams for operational accountability
These Leaders Trust Us For Their Cloud Management
Better Pricing and More Cloud Savings
nOps provides you with way more advanced features at a fraction of the price. 
We don't try to rope you in with a convoluted and expensive pricing model like Cloudcheckr. At nOps, we provide flat, transparent and affordable pricing plans that provide unlimited users' coverage.
And we also save you more... 
Users who switched from CloudCheckr to nOps saved 40% on their cloud bill, on average.
Save significant costs by rightsizing - take advantage of our estimated savings opportunities in identifying underutilized resources and provisioning the right capacity level.
nOps smart AI engine also eliminates outrageous bill shocks through continuous billing anomaly detection.
Multi-Cloud Reporting and Visibility is Unparalleled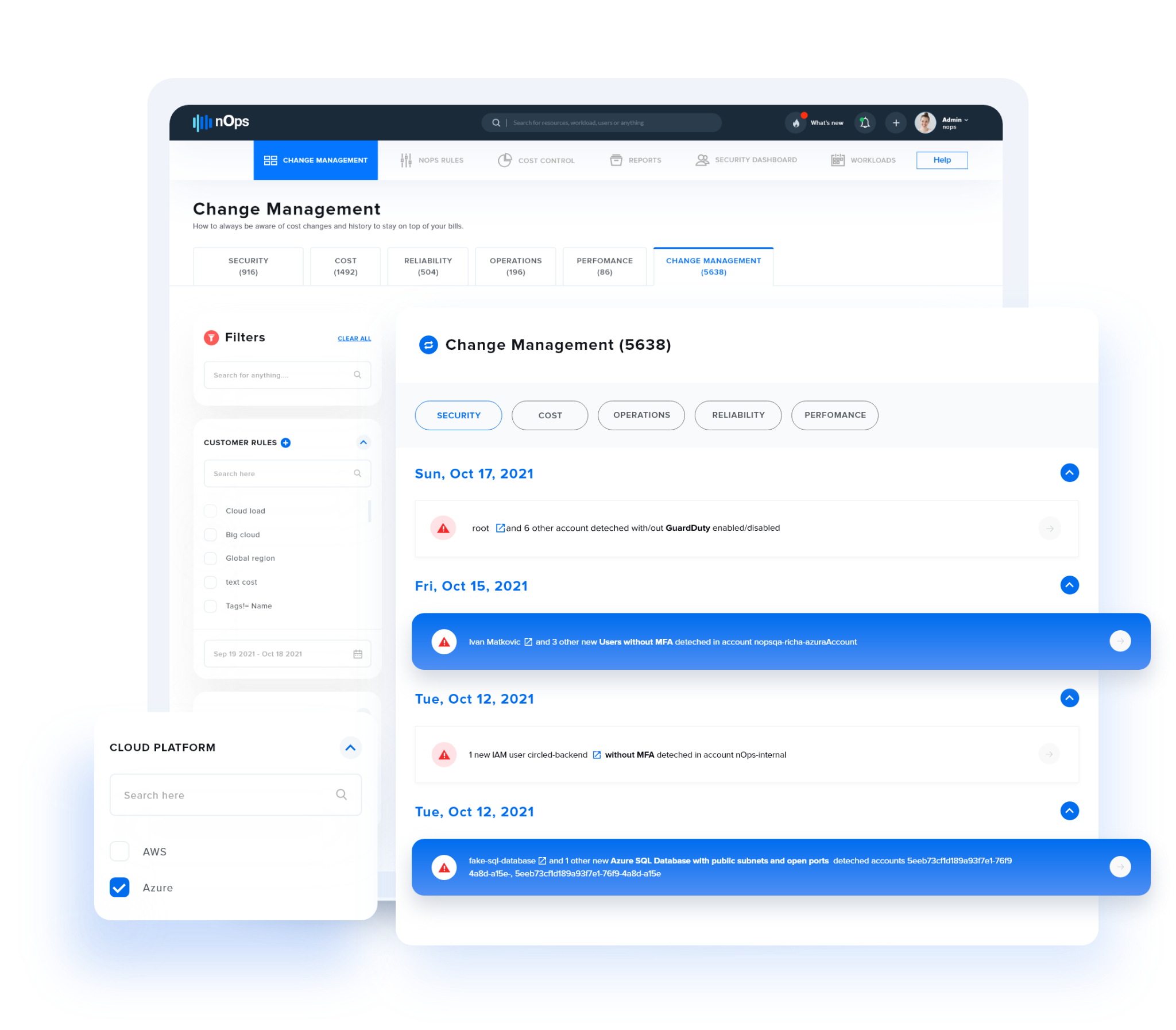 nOps is the only Cloud Management Platform providing you with integrated AWS and Azure Cost Reporting features, all in a unified Single Pane of Glass MultiCloud Dashboard. Stay in the loop with your constantly evolving infrastructure.
nOps provides near-instant visibility to changes in your cloud environment and configuration history, along with continuous notifications of security risks and detailed audit trails.
We Make Well-Architected a Priority
Unlike the native AWS or Azure Well-Architected tool which CloudCheckr redirects you to, nOps also auto-detects your AWS resources that aren't compliant in addition to asking you the key questions. 
nOps helps you get your applications, accounts, and AWS resources aligned with Well-Architected. It goes deeper to give you the same cost optimization features as CloudCheckr with analysis and recommendations for RIs, Saving Plans, Spot Instances, and more. Using nOps Rules, Well-Architected best practices are codified and tested against the running environment continuously. This feature is unique in cloud management tools and is one reason that people choose nOps over the native AWS Well-Architected tool.
Provides continuous, near real-time monitoring of your AWS and Azure infrastructure health.
Has custom dashboards for each pillar empowering you with drill-down, resource-level insights necessary for rapid root cause analysis.
Accelerates and improves the accuracy of AWS and Azure Well-Architected Reviews with auto-discovery of high-risk issues.
Creates fact-based remediation recommendations that plug actual infrastructure gaps.
Workload Customization and Organizational Alignment
Today's cloud applications have millions of resources, most of which are unallocated and lack ownership.
This lack of ownership makes it impossible to manage cloud finances and maintain security posture. nOps eliminates the reliance on humans for enforcing best practices.
We are the first CloudOps platform designed to sync revenue growth across your teams. Every cloud resource is easily tagged and aligned across your business. This allows for operational accountability, ultimately faster development, and lower costs. With nOps you get:
360° visibility into provisioned workloads across multiple cloud platforms.
Actionable, in-depth insights into resources usage segmented by users, accounts, and regions to enforce operational accountability across the board.
Continuous monitoring of violations and changes allowing dynamic alignment of operations with cloud adoption goals.
Tagging features to ensure all resources are accounted for.
Cloudcheckr is Complex
A lot of features can accrue over ten years, but do they make sense together? Sometimes having a hundred features is not a good thing when the user just wants to answer the question, "What changed to make my AWS costs go up 20%?"
These accrued features need to go on the screen somewhere and can lead to overly complex menus and navigation that frustrate users.
CloudCheckr is frustratingly slow.
Perhaps the most common comment we hear from customers that make the swap to nOps is the speed of navigation to the answers and the responsiveness of the application.
nOps is built with the latest serverless software architecture using the power of AWS scale and speed to process large datasets and complex queries very quickly. It also hasn't accrued technical debt, feature bloat, or any of the other things that cause application entropy over time.
nOps updates its view of your AWS accounts every hour, so you always have the latest, real-time view. It also has a very fast fuzzy search feature that means you can fly around your AWS accounts very quickly. As a result, important findings like Reserved Instance recommendations and security violations are almost real-time.
nOps is a great example of a partner who is not only innovating on behalf of their customers but also innovating to help other partners.
Using nOps, we have helped customers achieve impressive cost savings while building scalable infrastructure. Simply put, nOps enables us to build better architecture faster for our customers. It really fits our DevOps culture.
The nOps automated program saves up to 95% in execution time compared to a standard Review.
Using nOps, we can execute an AWS Well-Architected Review four times faster than it would take to do a standard assessment — and with far more detail and accuracy. We have 100% acceptance of our remediation proposals using nOps for Well-Architected Reviews.
How to Migrate from CloudCheckr to nOps
Sign up for a Free 30-Day Trial below.
Sync your clouds and switch your AWS and Azure account links from CloudCheckr to nOps.
Update any users and processes around new functionality and features, such as change management, well-architected and improved reporting.
Sign up for a FREE 30-day trial.